Convertkit is an email marketing tool designed to meet the advanced needs of the challenging marketing era.
If you want an easy one-stop solution to grow an audience, connect with fans, and start earning, ConvertKit is the best option to consider.
What is ConvertKit?
ConvertKit is a cloud-based email marketing tool. Like any other email service provider, it has everything – landing page builder, email list builder, and advanced features – you need to start an email marketing campaign from a single dashboard.
Though ConvertKit is comparatively new in the market, as its owners are also marketing professionals, it proved to be a good solution compared to the ones available.
The reason why this email marketing software is so popular among marketers is because of ConvertKit support and its ability to automate your online business.
With ConvertKit, you can create beautiful landing pages in an instant. Design them the way you want, i.e., simple, catchy, or vintage, to present your brand image.
There's a huge list of pre-made templates. You can use any of the suitable ones and keep trying new ones to see which works best for you.
Plus, you can host a referral program instead of relying on audience reach. This way, your existing audience will help you grow by referring your newsletter to their connections with interest in the same topic – a boost to your email marketing strategy.
ConvertKit Pricing
ConvertKit offers three pricing plans.
FREE
The free plan is designed for new creators just to build their list and brand. This plan includes
Unlimited Landing Pages

Unlimited Forms

Unlimited broadcasts

Taging and segmentation

Sell digital products and subscriptions

Community support
This plan is free for 1,000 subscribers and has everything you need to build an email list.
CREATOR
The Creator plan is suitable for growing creators expanding their names, and automating their work.
This plan comes with everything included in the free plan, plus
Live chat and email support

Free migration from another tool

Automated email sequences

Visual automation builders

Third-party integrations

Access to one additional team member
All of it comes at just $29 per month.
CREATOR PRO
This plan is designed for established creators scaling their businesses to the next level. The plan comes with access to all features offered by ConvertKit.
In addition to all features of the Creator plan, the creator pro plan comes with
Unlimited team members

Newsletter referral system

Subscriber scoring

Advanced reporting
The creator pro plan costs $59 per month.
How Does Convertkit Work?
ConvertKit comes with a clean and simple user interface. There's no learning curve, and if you are familiar with the cloud-based tools, you won't find anything troublesome in them.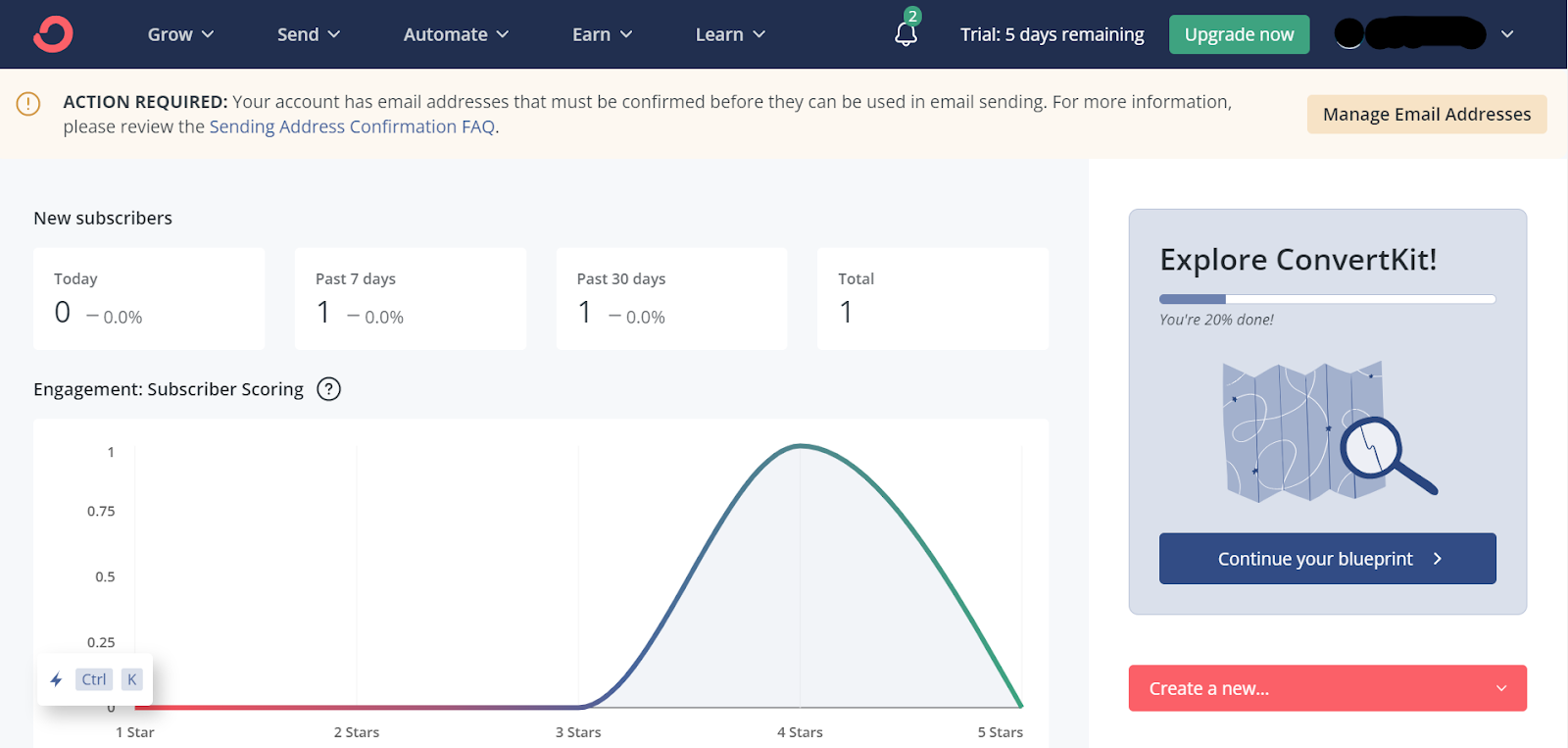 For example, you can add subscribers, create landing pages and forms, send emails, automate campaigns, and access learning material from the dashboard.
Use the Broadcasts option to send emails to your audience. You can start creating your first email by using the pre-made templates.
Create email sequences to nurture your audience and put your funnels on autopilot. Based on the entry, interaction, and interest, present your audience with personalized content to stay organized.
But the catch is that ConvertKit uses the A/B test feature to test two subject lines. It does a split test on subject lines, sending the most relevant ones to half of the audience. Among these two, the subject line with the high open rate would be used for the remaining 70% of the emails.
In case you hit a roadblock or need to fix something technical, reach out to ConvertKit support. There's no long waiting hours, and you will receive expert help.
Key Features of ConvertKit
ConvertKit has everything you need in an email marketing service. Here is a quick overview of each of the features of ConvertKit.
Subscribers: The list of people who have subscribed to your email list

Landing Pages & Forms: the tools you need to get the subscribers. ConvertKit has many customizable, responsive, and catchy templates for landing pages and forms.

Broadcasts: a one-off email to your list or a segment of it that is being sent to your audience. It is ideal for email newsletters.

Sequences: a series of multi-part emails to help you nurture email subscribers and convert them.

Automation: set things on autopilot. You can set almost everything on autopilot, including the email sequence and newsletter.

Email Templates: pre-made models to help you design your email with a combination of branding, personalization, and eye-catchy designs.

Snippets: store any of your favorite personalized content, including button lists, quotes, and more, to reuse in email campaigns in the future.

Creator Profile: create a one-stop hub for your quality content. The creator profile is where you can add your details, i.e., bio, and a collection of your content and links on a neat and clean page.
Let's discuss each of them in detail.
Subscribers
The number of people who subscribe to your newsletter, or email list is subscribers. Almost all of the email service providers charge based on your list volume — which is considered a disadvantage because many people subscribe to more than one sign-up form.
Other email marketing platforms refer to those repetitive sign-ups as unique and charge you a higher fee as the number of subscribers increases.
But, ConvertKit charges you based on the unique subscribers. If the same person subscribes from more than one form or landing page, the tool will still mark them as one.
Quick Overview Data of Subscribers
On the Subscribers tab, there's a quick overview of the subscriber list, which shows your marketing performance.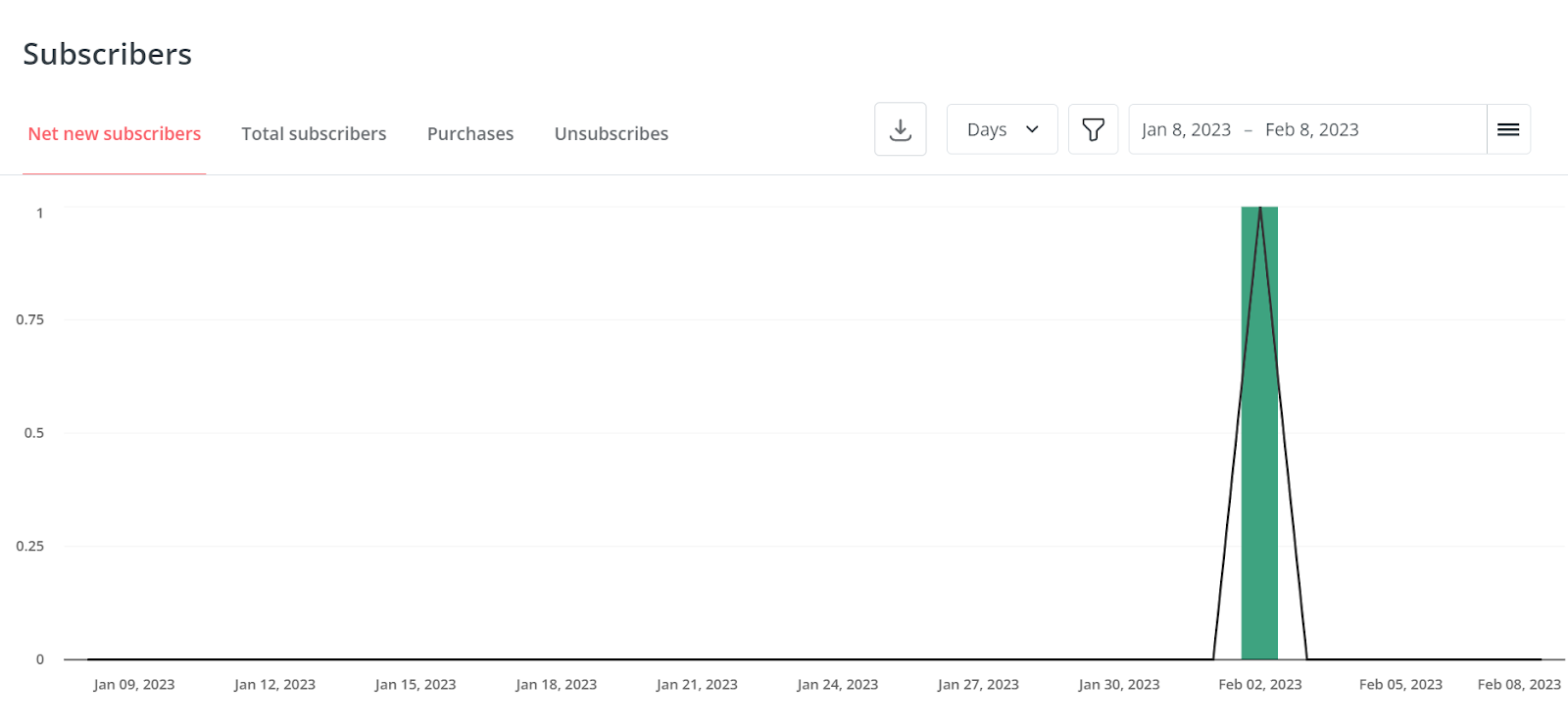 The stats will be categorized into Net new subscribers, Total Subscribers, Purchases, and unsubscribes. All this data will be marked on different dates.
It also shows data on Lifetime Totals stats on Average Open Rate, Average click Rate, and no. of sent emails.
Segments, Tags, and Products
You can organize your subscribers into different Segments to create a group for broadcast.
With tags, you can categorize subscribers based on when they signed up, which links they clicked on, and any other activity they showed interest in or interacted with.
Let's say you have a digital marketing newsletter with sub-topics on email marketing, content marketing, etc.
People interested in email marketing are likely to show a higher engagement and interest in the relevant topic. The same is for content marketing.
However, the engagement rate will drop if you keep a generalized marketing approach.
To handle this, you can use tags to tell the software to send the newsletter to interested people only. You can also use a set of different tags to offer a personalized experience to your audience.
Products
With product details, you can see exactly which of your subscribers have bought any of your products and how much they have paid.
It lets you categorize your subscribers list into customers and non-customers. Based on this, you can set different marketing strategies for each type of audience that caters best to their needs.
Sign Up Form
ConvertKit's sign-up forms let you keep track of audience interest. For example, if they are signing up for a weight loss diet, they will be less likely to engage in topics like 'yoga for tight hips.'
Though you can nurture your audience on related topics — which is something you can do later. To get started, you need to know their areas of interest, and sign-up forms are a great way to do that.
Landing Pages & Forms
ConvertKit comes with a built-in landing page and form builder. With that, you don't have to use any other digital marketing tool.
Landing Pages
ConvertKit lets you design web pages targeted for a specific purpose with distraction-free CTA.
It has a stack of customizable landing page templates. You can use them anytime you need to promote an offer.
As these templates are completely customizable, you can personalize them with your brand color and logo — make it look like a part of your website.
Forms
ConvertKit forms have advanced features like triggers and incentives. Like any other email marketing platform, you can create a simple sign-up form and add it to your website to convert your visitors into newsletter subscribers.
With triggers, you can set exit intent pop-up forms to win-back visitors leaving your website. Or, if you have a diverse blog with multiple different categories, you can embed unique forms for each one to keep track of your subscriber's interest.
Creator Profile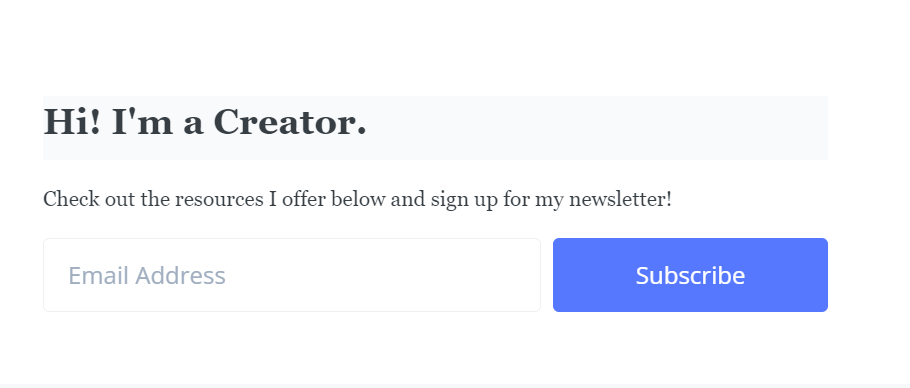 ConverkKit has introduced a creator profile. It is where creators can store all of their good content pieces and links.
It works like a hub featuring your bio, details of who you are, a collection of your posts, and links to a page. With this, you can always reshare your previously created gold content with newly subscribed visitors.
Broadcasts
With Convertkit, you can keep your email marketing campaign aligned with your content calendar. As you plan a new blog post, you can create an email sequence and schedule it for the future.
A broadcast is a one-time email you send to your entire list or a segment of your list. Such emails or broadcasts are mainly used to send new content updates.
Sending broadcasts with ConvertKit is super easy. You need to choose the segment, write the email, and send it.
Previewing your email content before hitting the send button is better. It helps you see any mistakes that you might have made.
Email Templates
ConvertKit has a variety of pre-made templates. You can use any of them to send to your list. All of these templates are completely customizable. Hence you can add branded colors and media.
Plus, these templates make things quick. You need to choose a template, customize it as you want, write the email content, and send it to your list.
Or, if you are already using a template from any other email service provider, you can easily import its code and create an HTML Template.
Sequences
A sequence is a series of emails sent with a period of delay in between each. These are automated emails generated in response to a trigger like a form, tag, or custom field.
For example, if you receive a new subscription, you send a sequence of welcome emails. The same is for thank you emails on a successful subscription, following up with interested readers, and post-webinar emails to help customers convert.
Snippets
ConvertKit has a powerful feature that lets you save your favorite email components for later use. These components include common personalization, buttons, lists, quotes, or anything else you want to have in your email.
The best thing about content snippets is that they are dynamic. Any changes you make in the snippet editor will be updated everywhere it has been used.
This feature is particularly powerful for automated email sequences. Snippets make it handy for you to update specific content everywhere simultaneously.
Automation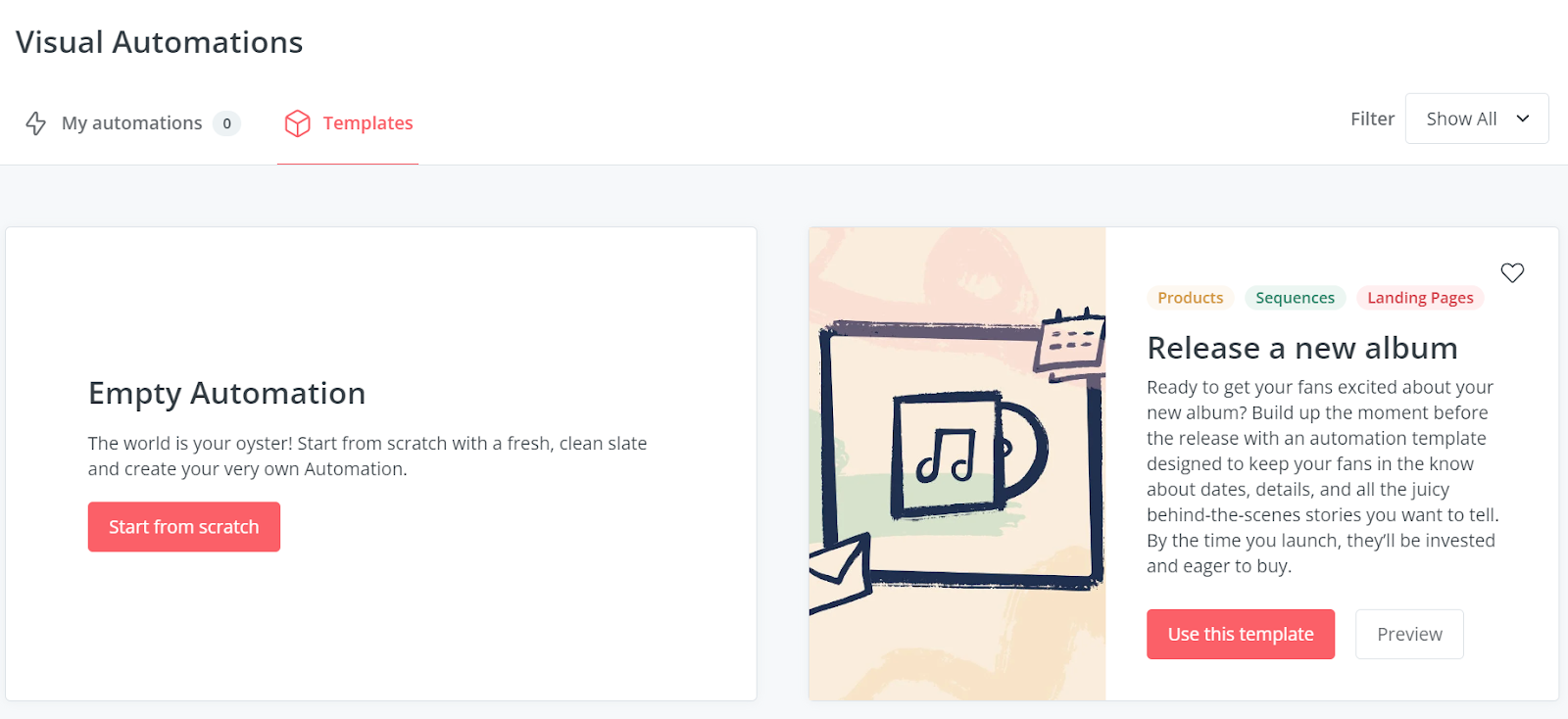 With ConvertKit's marketing automation feature, you can automate most of your tasks to save time. You can set different tasks based on variable triggers on autopilot.
For example, if someone made a new purchase, you can set up an automated new customer onboarding campaign. If they haven't made a purchase, you can set up another series of automated emails to help them find the best solution you offer.
This automation includes a trigger and a queue.
Once a trigger has been hit, a queue will be initiated.
Convertkit has 20+ automation templates designed for different purposes like hosting a webinar, launching a product, and personalizing content based on how subscribers answer a question.
You can also create new automation from scratch. You need to define a trigger and set the queue.
ConvertKit Review Summary
Email marketing has become a necessary part of building a brand. Compared to other marketing channels, email newsletters are known for better conversions.
Several email marketing tools are available in the market. The degree of efficiency in each tool depends on the power of its features.
ConvertKit is a great email service provider created by creators for creators. If you want to know whether it is suitable for you or not, it is best to give it a shot.