GetResponse is an email marketing tool that comes with a wide range of features to help you,
Create an email list

Engage with subscribers/customers

Promote and sell products

Analyze data to make better decisions for your next marketing campaign
The cloud-based platform is accessible from any device and provides secure data storage.
In the initial years of its launch, GetResponse offered several unique features. However, with time, they launched new features such as drag and drop editor, email campaigns, marketing automation workflows with Google Analytics integration, website builder, web event tracking, chat options, eCommerce solutions, webinar hosting, and sales funnels.
If you want to gear up your marketing game, GetResponse features could be the perfect companion for success.
GetResponse Pricing
GetResponse offers four pricing plans.
Free forever plan

Email Marketing

Marketing Automation

eCommerce Marketing
Free
If you are starting your journey in the digital marketing world, this free forever plan is a good option.
GetResponse free forever plan comes with
A limit of up to 500 contacts

2,500 newsletters per month

One landing page

Create and host a website with all essential features

Connect your premium domain

Signup forms and pop-ups
Learn more about the Free plan.
Email Marketing
The Email Marketing plan of GetResponse is designed for growing businesses. It comes with a flexibility of contacts. The total price depends on the number of contacts you select.
This plan comes with
Unlimited newsletters

Unlimited landing pages

Unlimited website builder

Basic segmentation

Autoresponders

Integrations and API
This plan costs $15.58 per month for 1000 contacts.
Marketing Automation
This plan is a best seller among all plans of GetResponse.
To help you grow your business online, this plan comes with all the features of email marketing plus and
Marketing automation

Event-based automation

On-demand Webinars

Advanced segmentation

Contact scoring

Sales funnels
This plan also has the flexibility of selecting contacts. The total price would depend on the number of contacts you choose.
For 1000 contacts, the cost will be $48.38 per month.
eCommerce Marketing
This plan is specifically designed for eCommerce brands considering their increased demand for better features.
The eCommerce Marketing plan comes with everything included in the Marketing Automation plus
Quick transactional emails

eCommerce segmentation

Abandoned cart recovery

Promo codes

Product recommendations

Web push notifications
This plan costs $97.58 per month for 1000 contacts.
How Does GetResponse Work?
Once logged in, there's a clean dashboard with an easy interface. You can create a form, and landing page, add contacts if you already have a list, and create an autoresponder from the quick actions menu.
This dashboard is customizable. If you want to see a specific thing here, you can add a widget using the 'add new widget' option.
The widget option leads to the widget library. You can select and add the widget that you want to see on your dashboard for a quick view of performance.
You can access all other features from the Tools menu in the header section. You will be directed to the dedicated page to take action by clicking on the specific feature.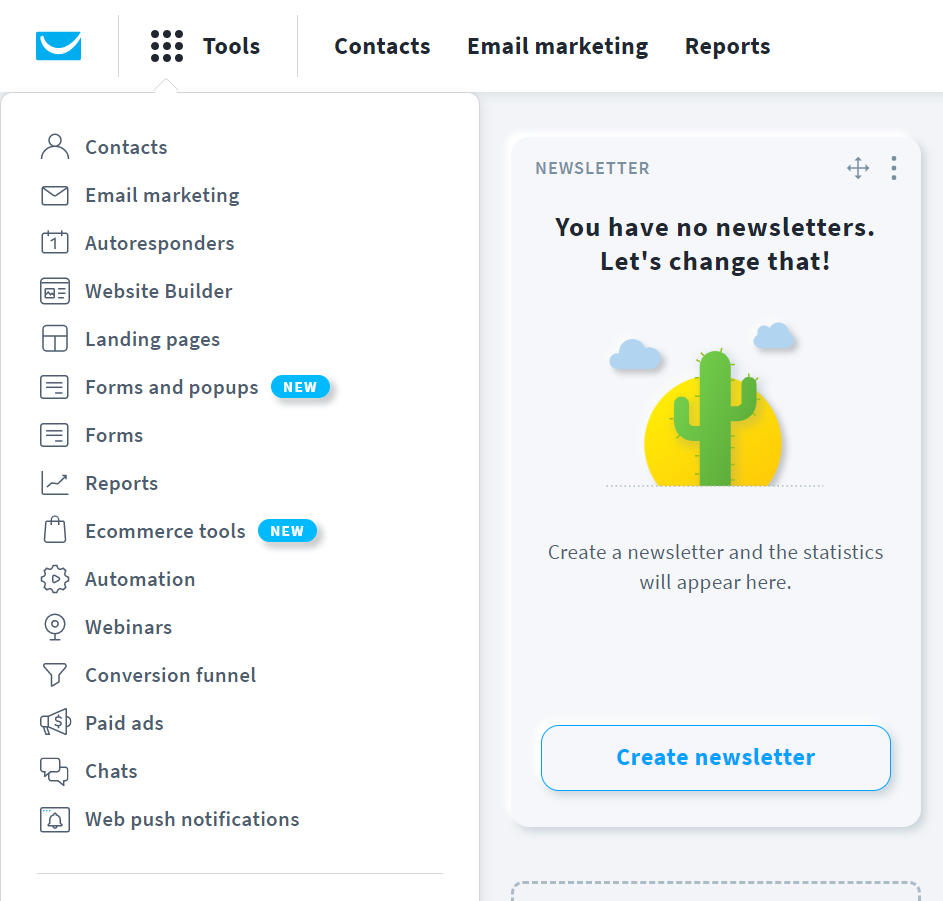 To start an email marketing campaign, you can create forms and landing pages without needing any third-party solution. With the marketing automation feature, you can design things in minutes and set them on autopilot.
Whatever you do automatically saves in real-time. A live chat option connects you with a GetResponse expert agent if you encounter any issues.
Top Features of GetResponse
Autoresponder
GetResponse offers a unique feature that lets you send automated email sequences. These sequences are invented to help marketers improve conversions.
An automated email sequence is a newsletter sent to subscribers at specified intervals.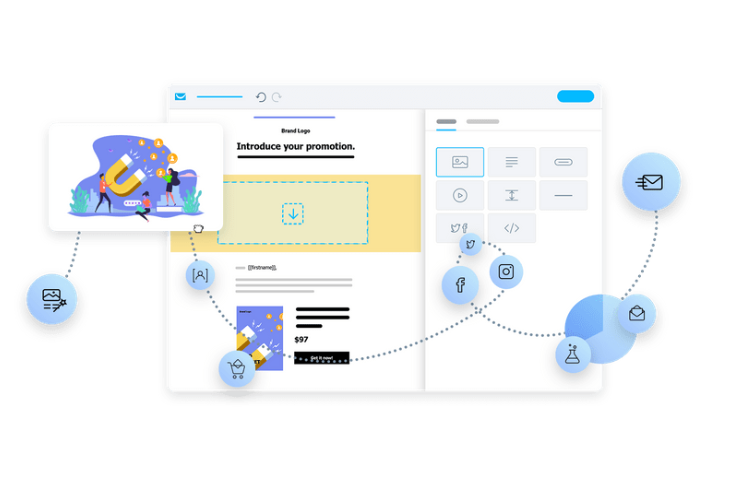 These autoresponders can work on triggers like,
When someone subscribes to your list

A promotional email after a week of their subscription for upsell or cross-sell

A sequence of emails to follow you/your brand on social media or take any other action
Or it could be anything else specified for an event at a particular time.
If used correctly, autoresponders can be a very powerful and simple part of an email marketing strategy.
As GetResponse is an all-in-one solution, you can use the design tools and templates for an email campaign from a single dashboard.
Based on your campaign, you can use a pre-designed template to save time. For personalization, a drag-and-drop builder is there to help you add your brand colors and logo.
You can set automated delivery time based on the subscription time at specified hours.
All of this is designed to help you improve conversions. By planning things, you see a trend in your efforts and enough time to re-think your strategy.
Marketing Automation
Besides the autoresponders mentioned above, GetResponse offers a sophisticated, one-stop solution to deliver a better customer experience.
Instead of waiting for customers to reach a certain trigger and then taking action, marketing automation features let you prepare ahead and grow with your needs.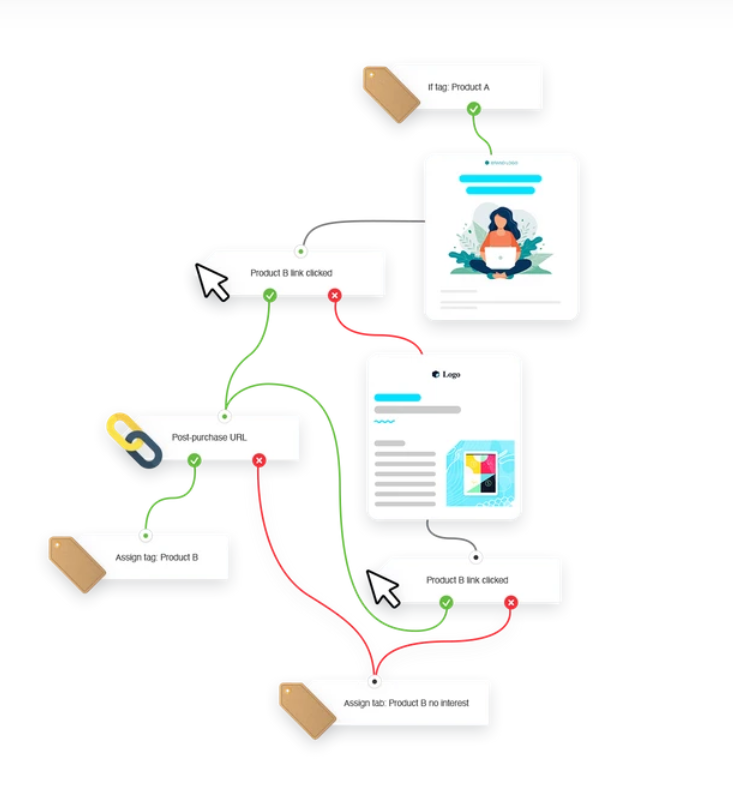 This feature lets you define each touchpoint and an appropriate action for it in the form of a flow chart. You can decide if a customer opens or subscribes to a particular offer or clicks on a button or link. The customer will receive a specific email tailored to the particular persona.
With data stored in your account, you can
Create automation workflows based on the audience's behavior

Take specific actions on selected conditions

Use filters for precise targeting
You can also manage your audience profiling and contact evaluation with tags and segments.
This data gives you enough insights to segment the audience and run targeted email marketing campaigns for better outcomes. Using relevant content in marketing campaigns improves results and helps you stay connected with your audience better.
Marketers use this feature in
Nurturing new leads and starting a conversation with your prospect

Recommend popular products as you learn about your customer's preferences

Recover lost sales by reminding customers about abandoned order

Use behavioral targeting to trigger relevant emails
With all this, you can turn your website and visitors into potential sales opportunities.
Multichannel Engagement
The audience expects brands to offer personalized solutions to their needs in the pool of multiple options. By connecting with them on multiple channels and collecting data and insightful trends, you can determine where your audience is more responsive.
With these details, you can analyze when and where your audience is more responsive to pitch them a great solution.
GetResponse has solutions like web push notifications, SMS marketing, pop-ups and forms, and a live chat feature.
Web Push Notifications
Push notifications instantly grab visitors' attention. If optimized well with hard-to-miss messages, you can maximize reach to your best post or best offer.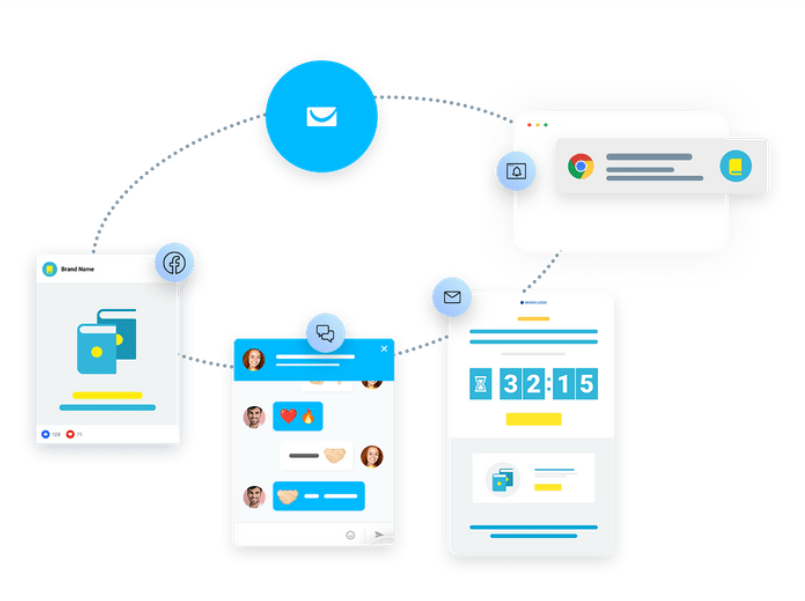 According to Moengage, the delivery rate of push notifications is 90%, the click rate is 7x higher, and almost 40% of the users interact with push notifications within an hour of receiving them.
SMS Marketing
GetResponse lets you set bulk automated SMS campaigns based on user behavior, selected condition, or contact information.
The SMS marketing tool has a perfect timing tool. It ensures the delivery of SMSs at a time when your audience is more likely to engage with them.
You can add links (shortened by link shorteners), unsubscribe links (to stay compliant with GDPR), monitor and analyze the number of sent and delivered messages, and details like link click.
Popups & Forms
Pop-ups, banners, and forms are used to hook your website, visitors before they leave.
GetResponse has over 30 triggering rules to help you catch your visitor's attention. You can build forms and pop-ups from scratch or use a template.
Templates are fully customizable.
You can choose multiple formats to engage with visitors, i.e., bars, light boxes, or banners. All of them are optimized for mobile and website traffic.
Embedding these pop-ups on your website is quite simple. You can copy and add one code to your website and manage all pop-ups and forms.
Live Chat
If you are offering a product or service, it is important to have the option to connect with your audience instantly.
With GetResponse live web chat feature, you can connect, engage and support your customers efficiently. It lets you provide
Real-time instant support

Chat from landing pages and emails

Be there for your audience when they need you the most

Maximize conversions and sales
It is said that happy customers are the best asset for a business. The quick and easiest way to get rid of the customers' frustration and make them happy is by immediate response.
According to ReveChat, 90% of customers rate immediate response as necessary, especially when they have sales and support queries.
Landing Pages
With the GetResponse landing page creator, you can easily create intuitive standalone web pages for specific targets.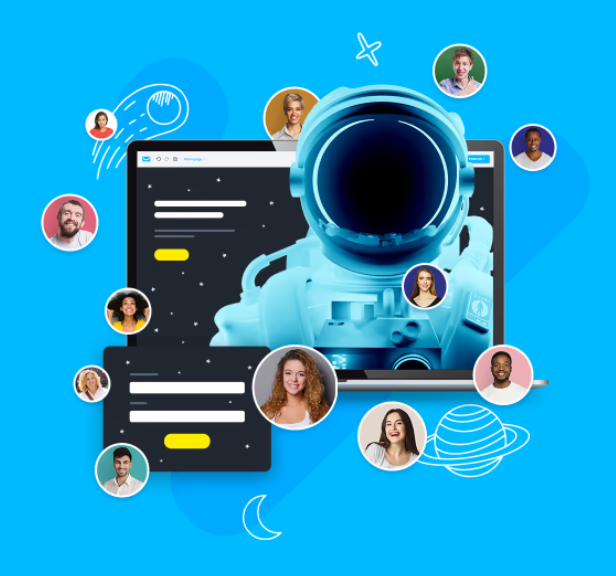 There are over 200 templates in the GetResponse landing page builder to use. The drag-and-drop builder lets you customize each of them with no hassle.
You can optimize each of your landing pages for different devices and set the domain name, meta title, and description for SEO.
Plus, it provides detailed analytics reports like the number of clicks, visits, and conversions. You can run A/B tests to determine what's working for you.
You can integrate it with Google Analytics, Google Tag Manager, Facebook Pixel, and many other tools to have an in-depth view of your landing page's performance.
Lead Magnet Funnels
One great way to access your visitor's data is by offering a lead magnet. It is an incentivized way of exchanging your customer's email and contact details for essential information.
GetResponse has a pre-made library of lead magnets to help you get started. You can select a signup incentive or lead magnet, define your ideal campaign scenario, and design your follow-up emails.
With relevant lead magnets, you can entice the right audience to connect on a more personal level. You can promote these assets on your social profiles via Facebook and Instagram ads created right from your GetResponse account.
Automated triggers are set to take follow-up actions. It starts from the beginning — customers automatically receive the lead magnet on signup.
For later, you can automate a series of emails to engage with your audience. Once you reach a certain level of trustworthiness, you can expect them to convert, i.e., take a specific action, subscribe to a list, service, product, etc.
You will get comprehensive analytics data to monitor your Facebook Ads, landing page visits, and downloads. With that data, you can optimize your funnel to get better results.
eCommerce Marketing Automation
In eCommerce, there are a lot of factors affecting the total revenue of a business or brand. You can skyrocket conversions if you get comprehensive data and make data-based decisions for better growth.
GetResponse lets eCommerce store owners have all the features they need. You can easily integrate your eCommerce platforms with one-click integration, enabling seamless data syncing between two platforms.
Using the stored data, you can
Plan and execute email marketing campaigns

Use automation to increase conversions

Leverage SMS marketing to connect with your audience

Segment customer's data to reach them with personalized offers
You get access to open API if you are a tech geek and want to build something new out of GetResponse and eCommerce platform integration.
All of these features are perfectly optimized for growth and conversions. One of the eCommerce brands, Beauty Sleep, has reported that they have maximized their conversions by 43% and sales rate by 25% with the GetResponse abandoned cart series.
Webinar Builder
Webinars have become a significant part of a lead generation campaign. They let you connect with your audience and allow you to engage with and solve their issues.
So, instead of using a third-party solution, you can host webinars from a single marketing suite.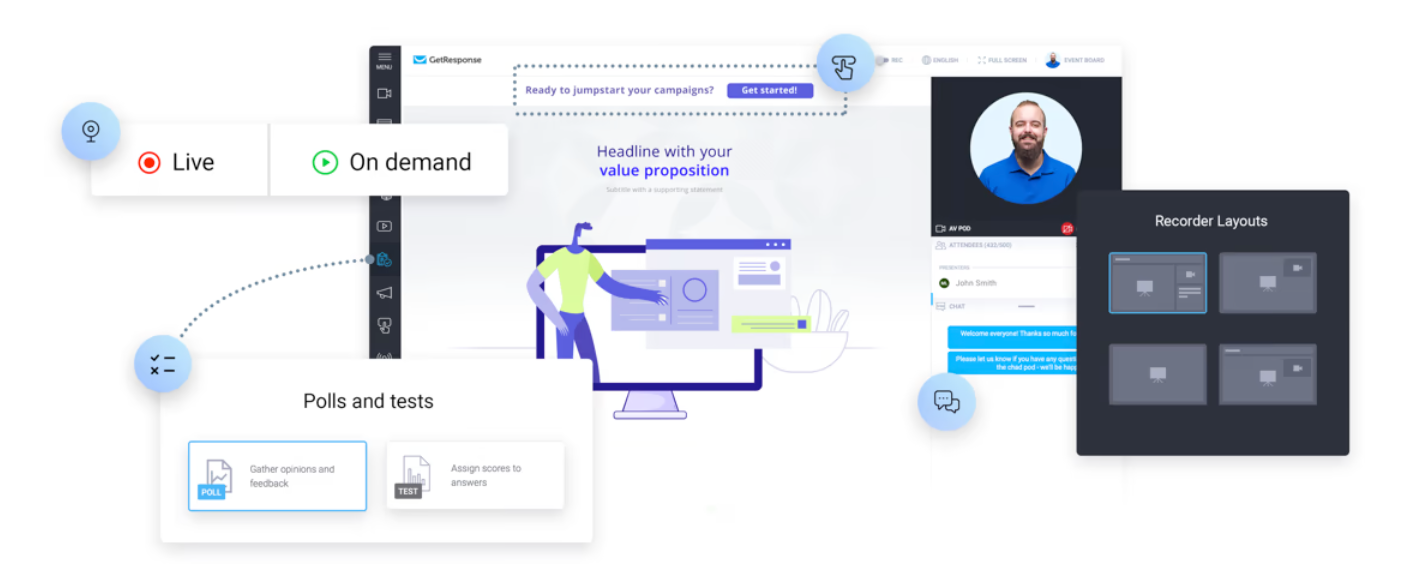 GetResponse webinar builder lets you
Host unlimited webinars

Get a room for up to 1,000 live attendees

Allow two other presenters to spice up the content

Store up to 20 hours of webinar recordings

Customize the webinar URL to promote your brand
Hosting webinars right from your marketing suite brings more convenience.
You can easily set up an automated campaign for your webinar. Connect and engage with new leads, set automated follow-ups, webinar reminders, and nurturing campaigns, and promote special offers and events.
You can expand your reach by live streaming your webinar on Facebook and YouTube to reach more audience or webinar attendees. If you want attendees to take action, you can use buttons during the webinar.
Conversion Funnels
Sales funnels that take a potential customer on a stage-based journey toward making a purchase are conversion funnels.
In eCommerce, conversion funnels are the cornerstone that helps brands generate revenue. Based on the stage of your potential customer, these funnels guide them toward the appropriate action.
GetResponse has an automated conversion funnel tool. It comes with
Simple opt-in funnels to capture new leads

Lead magnet funnels to share valuable content in exchange for contact details

Sales funnels to let you promote, sell, and deliver products/services

Webinar funnels to help you build relationships and turn your expertise into revenue
All of it is simple. You need to let the tool know what you are trying to build, and it will present you with professionally-designed and optimized solutions.
There are multiple pre-design scenarios for each stage of your conversion funnel. By starting with high-quality traffic, you get to send the traffic to your landing page, turn the traffic into leads, and send follow-up emails to nurture new leads.
Paid Ads
One of the great ways to connect with a potential audience interested in your brand is through paid ads. It lets you find new leads and turn them into customers.
If they do not make a transaction instantly, you get their contact details to follow up with potential offers.
Paid ads let you connect with a relevant audience who you think might be interested in your brand or content.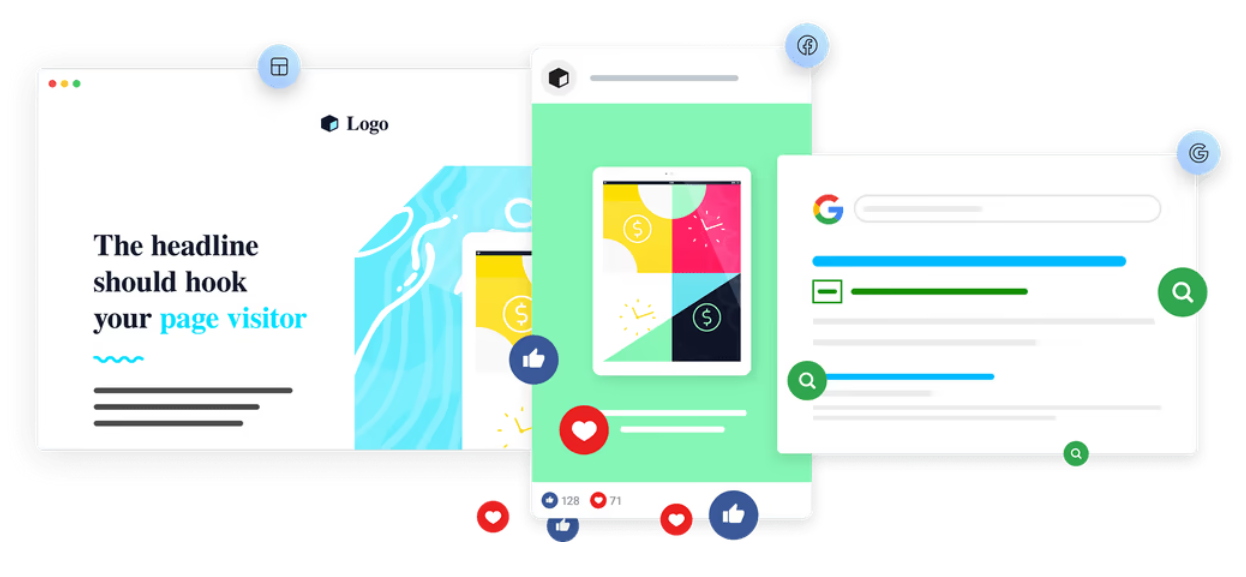 With that, you can optimize your content and target subscribers with ads they are more likely to engage with.
And it's not just for the new leads. You can retarget people who have visited and left your page without converting with new, relevant ads.
With the GetResponse Paid ads feature, you can run
Targeted meta ads

Google Ads

Goal focused ads
There's a social ads creator as well. It lets you create enticing videos and catchy banners in minutes. You can use it for any paid ad campaign.
Website Builder
GetResponse has everything a business needs to grow. You can do almost everything to run marketing campaigns without hiring a huge team.
It was missing a huge factor of a business's success — a website.
GetResponse website builder lets you design a business website the way you want. It comes with everything you need, templates, themes, a no-code interface, and an AI-driven approach.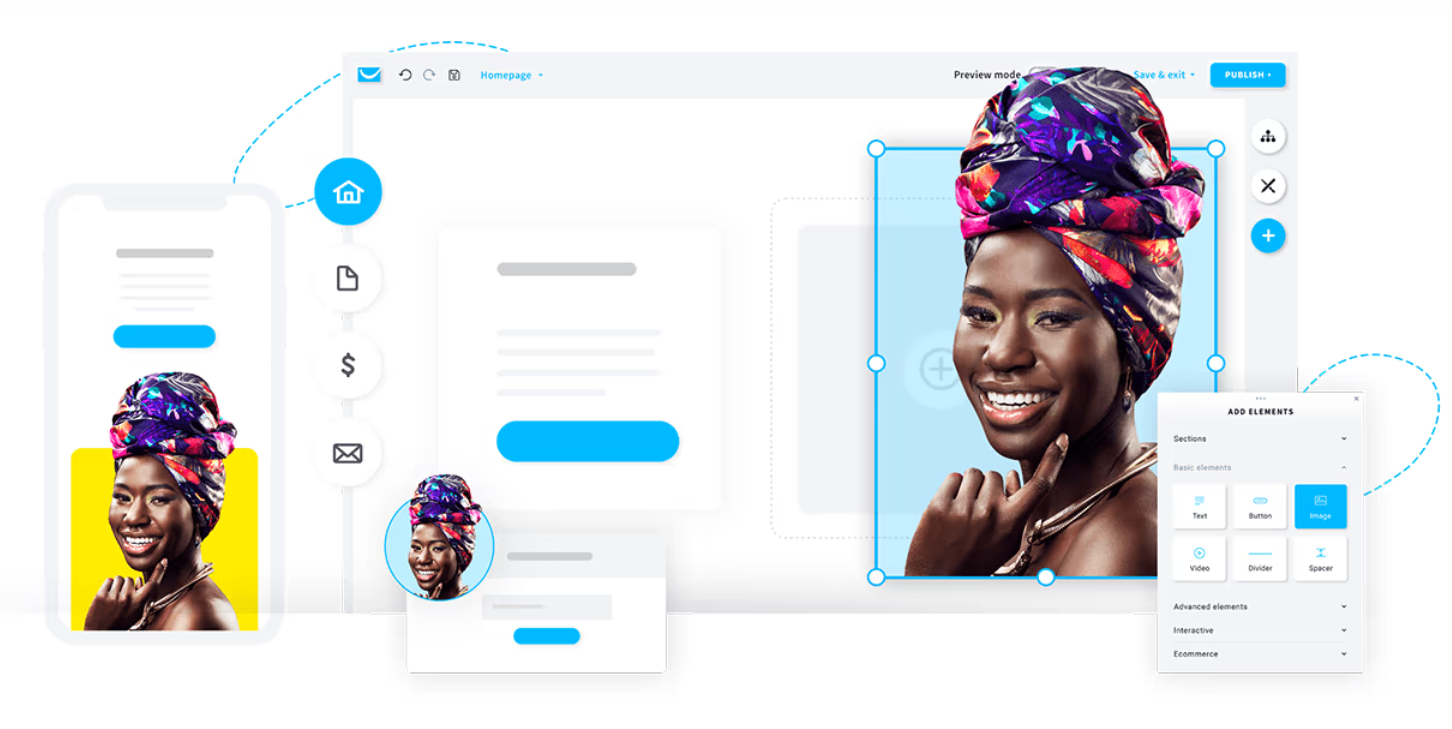 Define your business and visual preferences to the AI, which will present you with several personalized templates.
You can design a custom website from scratch if that doesn't suit you.
As someone who has used multiple website builders, if you are a beginner, GetResponse website builder is the best option to do wonders.
If you are an expert, that's even better. Your skills, combined with the possibilities in GetResponse and features, can form a fantastic website.
GetResponse Review Summary
Growing online businesses needs an all-in-one digital marketing solution. Taking care of everything from a single dashboard is much easier than switching between tools.
GetResponse kicked off its journey as a perfect email marketing tool. With time it launched several features to help its customer base.
With time, they have improved a lot and taken feedback seriously.
GetResponse is an easy, affordable, and result-driven email marketing software— and my favorite for the same reasons.
If you need clarification on GetResponse, start using the free forever plan and give it a go before cutting it down from your list.