MailerLite is an easy to use email marketing software, with different features, excellent value for money and efficient assistance

MailerLite is a Top Rated email marketing software that has received enviable user reviews, and ranks among the top rated programs that use email as a direct marketing medium.
MailerLite stands out not only for its simple and intuitive user interface, an award-winning 24/7 assistance service, but also and above all for its numerous features and a decidedly attractive price, if we consider the excellent product quality.

Not only automation and landing pages then, but a series of practical features in a user friendly system that can be integrated with tools such as Zapier, Stripe, WordPress, Shopify and many others, for an easy-to-use email marketing platform that offers many interesting features , now used with satisfaction by more than a million users.
MailerLite Pricing
MailerLite is an email marketing tool that offers a free package, after registration, which can be used as a 30-day trial.
There are four MailerLite tariff plans, with these specifications: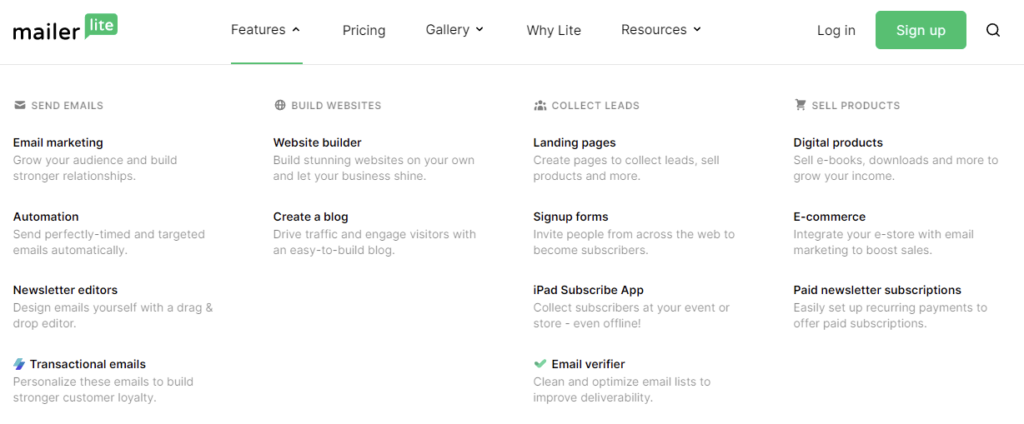 Main Features

SEND EMAILS
BUILD WEBSITES
COLLECT LEADS
SELL PRODUCTS
Send email
By entering "SEND EMAILS" we discover that with MailerLite it is possible to create captivating and engaging promotional campaigns via email using functions such as drag & drop, with pre-set content blocks useful for customizing newsletters, an email editor – not very different from a normal inbox – and also an easy to use HTML editor, to code your emails from scratch. The latter offers special features such as snippets, custom variables and an automatic CSS Inliner to include elements such as attributes, pseudo-classes, descendant selectors and more.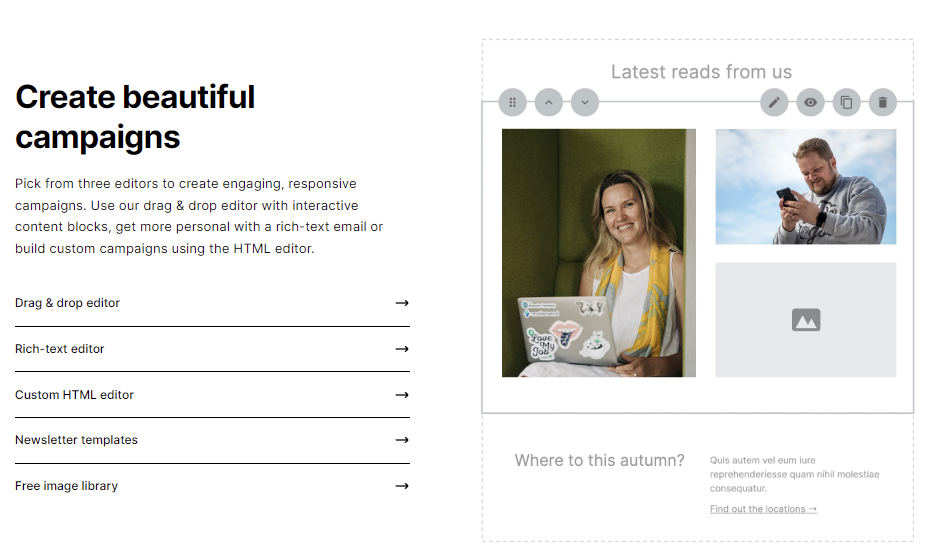 The MailerLite Template gallery makes various attractive designs available to the user – for 14 days in the free plan – to customize emails with the most suitable layout for the promotional campaign you want to create.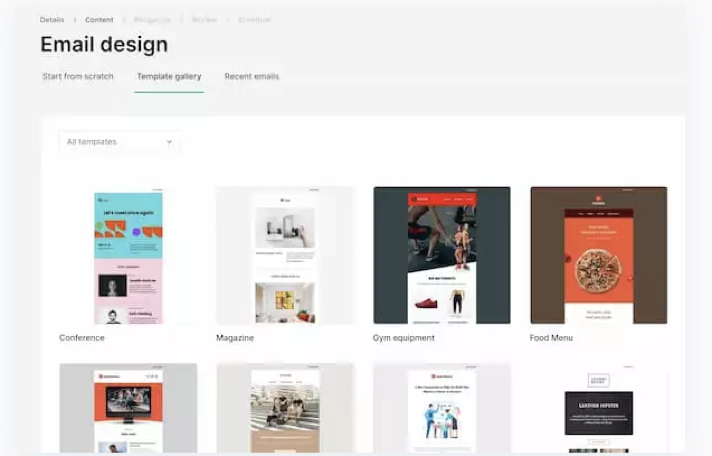 Create websites and Landing Pages
In this section you can easily create websites, blogs and an online store by integrating it with Stripe.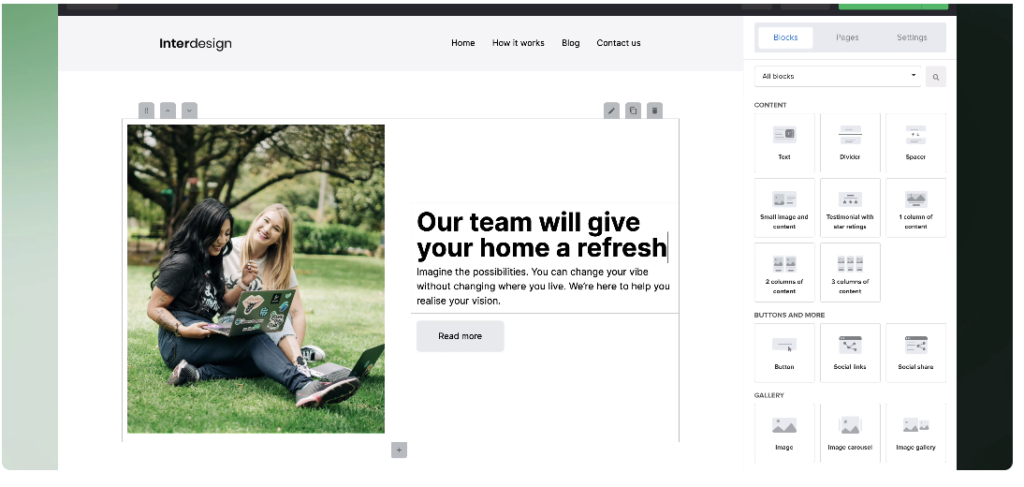 MailerLite allows you to create your website in simple steps:
Model choice, from the wide gallery of models available.
Easy block composition, with drag and drop function.
Personalization, through the library of icons, animations and the integrated photo editor.
Publication of the site, in safety, thanks to the SSL (Secure Sockets Layer) protocol which manages the information in an encrypted and secure way.
Get leads
Creating customized landing pages to get new leads is easy and intuitive with the Drag & Drop function, which works in blocks:
To create a landing page (Lp), the first step is to click on the "Sites" tab or on "Create site from the Dashboard".

Then click on the Lp tab and then on "Create new Lp", and after assigning a name to the Lp, click on "Save and Continue". You then choose a group for the LP, then the model (you can also view specific categories). Then click on the "Blocks" tab to drag content blocks from the sidebar to the landing page.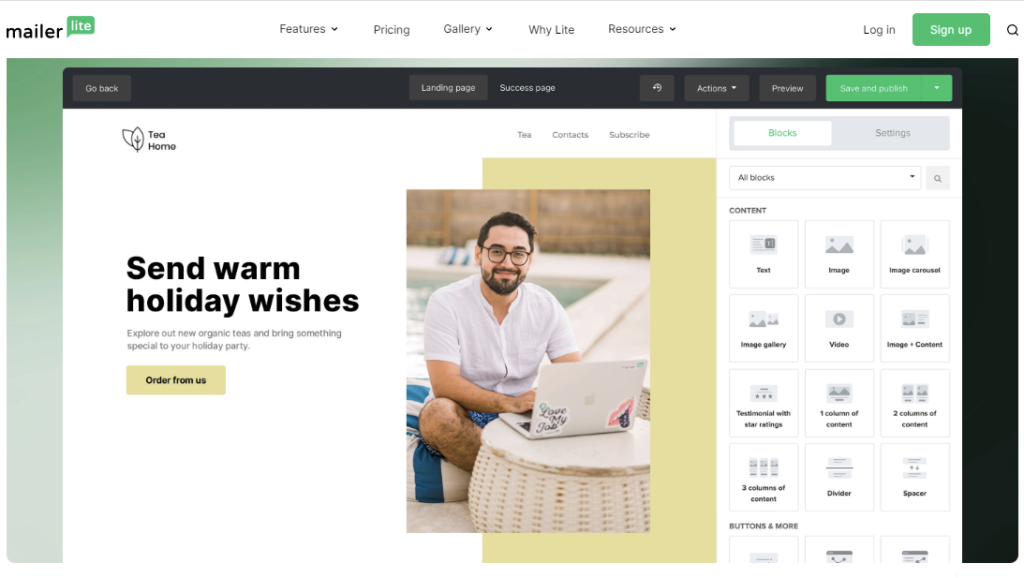 MailerLite can count on numerous integrations, such as Google Docs, Paypal, Slack, Trello, Google sheet, Elementor, WordPress, Prestashop, Shopify, as well as with Zapier, WooCommerce, Facebook Audiences, Stripe and many others, to connect the landing page with useful tools to sell digital products in the online store and subscriptions such as e-books, digital downloads and paid newsletters. Each published page comes with a free URL.
MailerLite software also offers the possibility of using interactive content for landing pages, such as quizzes and surveys, promotional pop-ups, countdown timers and limited number coupons, for better audience engagement.
A/B Testing feature
The A/B test function, easy to set up on different elements of the emails, allows you to evaluate which variant of an email is the most effective for increasing the conversion rate, by means of parameters such as:
Time spent on site
Bounce rate
Click-to-Rate (CTR)
Average Cart Value (CRO)
Number of abandoned carts
Conversions and micro-conversions
Sell products
MailerLite's tools for landing pages combined with email marketing allow you to easily create, promote and sell digital products online with a single software solution.
For example, it is possible:
Pick an ecommerce template, connect to Stripe, and use 30 design blocks to create eye-catching product pages.
Increase traffic with social media, emails, pop-ups and more, review analytics and run A/B tests to optimize pages.
After you sell a product, you can automatically deliver files and track revenue, build customer loyalty, and upsell with email.
Through the integration of MailerLite with the e-commerce platform used, such as e.g. Shopify or WooCommerce, you can increase your sales by creating email marketing campaigns based on your customers' buying behaviors.
Product images, descriptions and prices can be imported directly into the newsletter.
The drag & drop editor simplifies working with ecommerce blocks and custom settings, and makes it easy to create newsletters to showcase products in a way that fits into the design of your online store.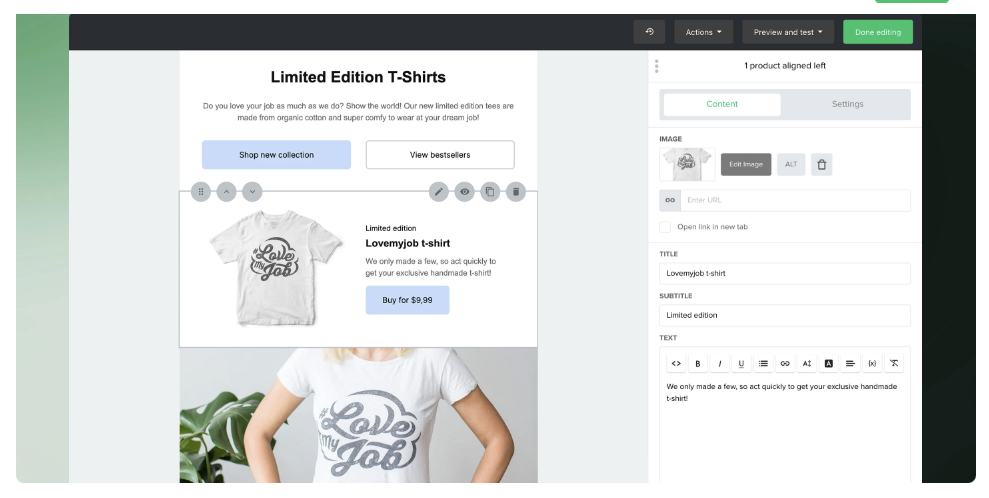 Free version forever (pricing)
MailerLite's free plan is ideal for businesses that have 1,000 subscribers or fewer. This version comes with all the basic features and some advanced functionality for creating and managing email campaigns, for example using the intuitive drag-and-drop tool, the text editor and the photo editing function, which can be used instead of a graphic design software.
The free plan also includes email automation, A/B testing, and advanced audience segmentation and tagging features to create interest groups by adding custom tags or labels to subscribers.

The free version also has its downsides. One of its main drawbacks is limited email sending, in fact it only allows you to send 12,000 emails per month. If you need to send more emails, you need to upgrade to the Premium version.

Affordable paid plans
MailerLite paid plans are for those who need unlimited email sending capabilities and more advanced email marketing features. Starting at $9/month, businesses with up to 1,000 subscribers can access all premium features. A 30-day trial period is available for the Growing Business and Advanced Business paid plans, with the possibility of using all the features included in the plans. The cost of the paid version depends on the number of subscribers; it is therefore necessary to update the plan only when the number of subscribers has exceeded the limit of the current tariff plan.

Detailed click maps
MailerLite's click maps feature allows you to understand how subscribers interact with your newsletters. Thanks to this feature, you can get an idea of how to make your newsletters more engaging by analyzing whether subscribers click on playable media, still images or buttons. The click maps feature also shows the engagement or click rate of each link in the newsletter.
Sending based on time zone

| | |
| --- | --- |
| EmailOctopus | Easy to use for non technical marketers and founders. Free plan up to 2500 subscribers |
| Omnisend | Best for Ecommerce. Free plan for up to 250 subscribers |
| SMTP2go | Email deliverability at a good price. Developer needed for setup |
| Beehiiv | Best for newsletter creators, journalists, publishers. Free for up to 2500 subscribers. |