Moosend is an email marketing and automation platform that enables businesses to send targeted and personalized email campaigns.
Pricing:
Moosend offers a variety of pricing plans based on the number of subscribers you have and the features you need. Their plans start at $9/month for up to 500 subscribers with unlimited emails and can go up to $5,840 per month for 1,000,000 subscribers. They also offer a pay-as-you-go option for users who need to send a large volume of emails occasionally.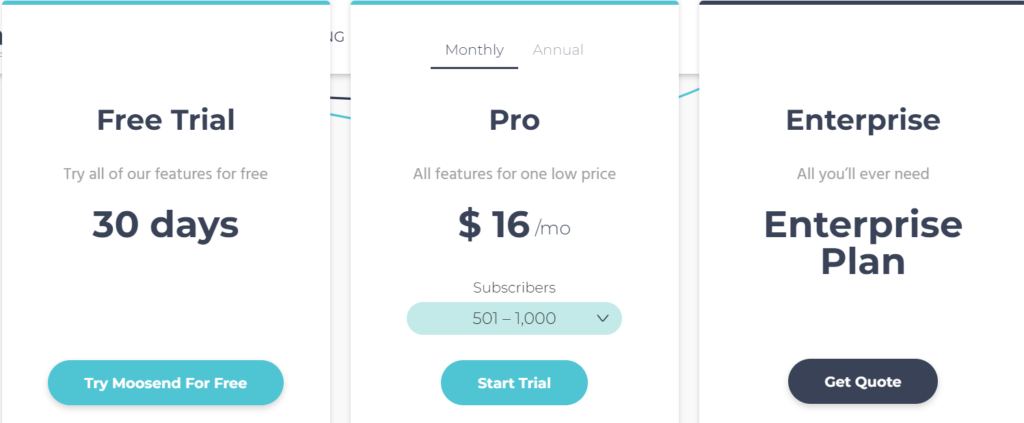 Pros
Easy to use: Moosend has a user-friendly interface that's easy to navigate, even for beginners.
Personalization: Moosend allows you to personalize your emails based on customer behavior, interests, and preferences.
Automation: Moosend offers advanced automation features like drip campaigns, lead scoring, and segmentation.
Integrations: Moosend integrates with over 1000 apps and tools, including Shopify, Salesforce, and WordPress.
Cons
Limited customization: Moosend offers limited customization options, which may not be suitable for businesses that require more branding and personalization.
Limited analytics: Moosend provides basic analytics like email opens and clicks, but it doesn't offer in-depth data analysis.
Limited email template options: Moosend has a limited selection of email templates compared to other email marketing platforms.
Key Features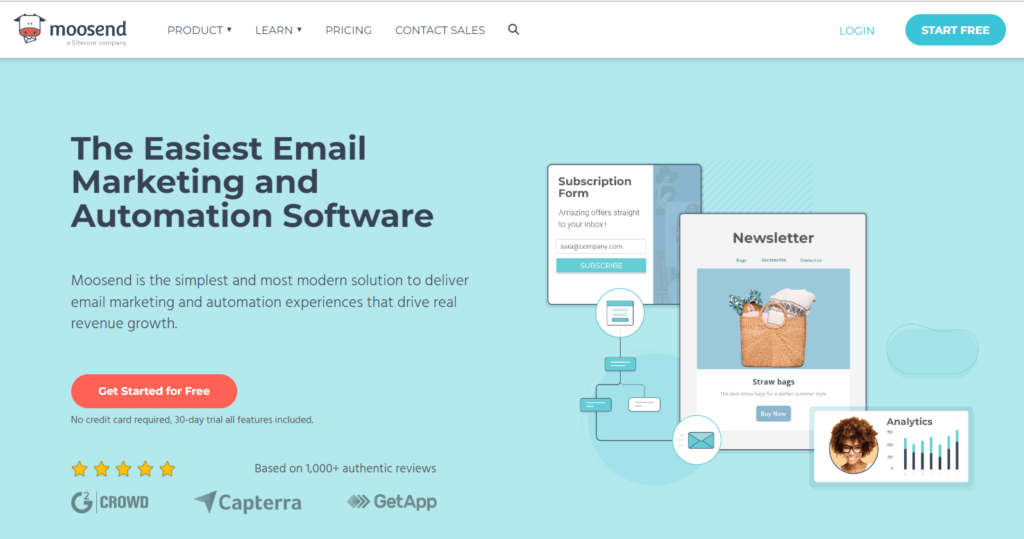 Email Campaigns: Moosend allows users to create and send email campaigns easily, with a drag-and-drop email editor, customizable templates, and a variety of targeting options.
Marketing Automation: Moosend provides advanced automation tools that enable users to create automated workflows based on specific triggers, such as a subscriber's behavior or demographics.
Landing Pages: Moosend includes a landing page builder that allows users to create custom landing pages for their email campaigns and promotions.
Segmentation and Personalization: Moosend enables users to segment their email lists and personalize their messages based on various criteria, such as location, behavior, and preferences.
Reporting and Analytics: Moosend provides real-time reporting and analytics that enable users to track and analyze the performance of their email campaigns, landing pages, and automation workflows.
Integrations: Moosend integrates with a variety of third-party tools, such as CRM systems, e-commerce platforms, and social media channels, to help users streamline their marketing efforts.
A/B Testing: Moosend allows users to test different versions of their email campaigns, landing pages, and automation workflows to optimize performance and increase conversions.
Best for…
Moosend is best for small to medium-sized businesses that need an affordable and easy-to-use email marketing platform to engage their customers and drive sales. It's ideal for businesses that want to automate their marketing processes and create targeted campaigns based on customer behavior.
Alternatives
ActiveCampaign is a more comprehensive marketing automation platform that offers advanced features like CRM, lead scoring, and attribution reporting. However, it can be more expensive than Moosend.
Sendinblue is a similar email marketing platform to Moosend that offers advanced features like A/B testing, marketing automation, and landing pages. However, it can be more expensive than Moosend.
Mailchimp is a popular email marketing platform that offers basic marketing automation features and is easy to use. However, it may not be as powerful or comprehensive as Moosend.