Substack is a popular email newsletter platform that provides writers, journalists, and content creators with the tools and resources they need to build and monetize their audiences.
Pricing: Substack is free to use, but the platform takes a 10% cut of any revenue generated by paid subscriptions. This means that if you charge $5/month for your newsletter, Substack will take 50 cents per subscriber per month.
Pros:
User-friendly interface: Substack has a simple and intuitive interface that makes it easy to create and distribute newsletters.
Monetization options: Substack allows writers to monetize their newsletters through paid subscriptions, sponsorships, and merchandise sales.
Audience building: Substack helps writers build and grow their audience through its discovery features and newsletter archives.
Customization: Substack allows writers to customize their newsletters with their own branding, themes, and design.
Cons:
Limited functionality: Substack is primarily designed for email newsletters, so it may not be suitable for writers who want to create more complex content like podcasts, videos, or courses.
Limited analytics: Substack provides basic analytics like subscriber numbers and open rates, but it doesn't offer in-depth data analysis.
Revenue sharing: Substack takes a 10% cut of any revenue generated by paid subscriptions, which may be a deal breaker for some writers.
Key Features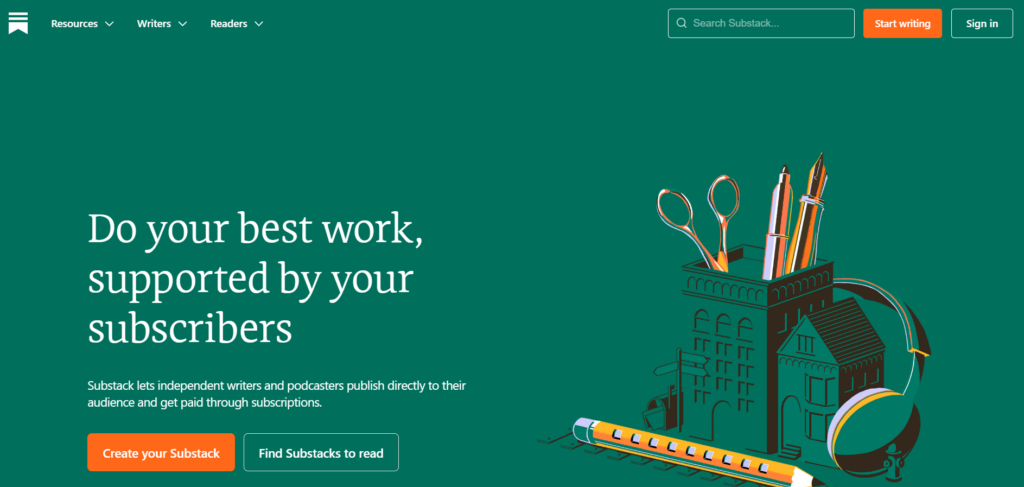 User-friendly interface: Substack provides a clean, user-friendly interface that makes it easy for writers to create and manage their newsletters.
Customizable templates: Substack offers a variety of customizable newsletter templates, allowing writers to design newsletters that reflect their personal brand and style.
Subscriber management: Substack provides tools to manage and grow a subscriber base, including the ability to import and export subscriber lists and automate subscription management.
Payment processing: Substack enables writers to monetize their newsletters by offering paid subscriptions or accepting donations from their readers. It also provides tools for managing payments and revenue reporting.
Community building: Substack allows writers to build communities around their newsletters by enabling comments, discussion forums, and other interactive features.
Analytics: Substack provides detailed analytics on subscriber growth, engagement, and revenue, allowing writers to track their performance and optimize their content.
Mobile app: Substack has a mobile app that allows writers to manage their newsletters and engage with subscribers on the go.
Substack is Best for…
Substack is best for writers and publishers who want to create and distribute email newsletters to a loyal subscriber base. It's ideal for writers who want to monetize their content and build a following.
Substack Alternatives:
Beehiiv is a newsletter platform designed by email marketing experts. It allows us to do advanced customization, launch a referral program, and offer paid subscriptions for growth.
ConvertKit is an email marketing platform that's designed for creators and bloggers. It offers more advanced features like automation and landing pages but may be more expensive than Substack.
Contribee is a platform that allows creators to monetize their content through subscriptions, merchandise sales, and sponsorships. It's ideal for creators who want to offer more than just email newsletters, like podcasts, videos, and artwork.