How Does Email Octopus Work
EmailOctopus has an email list approval process that ensures great service quality and delivery rate.
Many marketers still purchase email lists, which is illegal and affects the email provider's service. This is why EmailOctopus takes time, usually one business day, to check the email list carefully.
If you are getting started, you can use a landing page and form to start building an email list.
Various templates are available to help you design your first email. All of them are customizable and easy to use.
Once you have sent an email, you can check analytics details like open rate, engagement, subscribers, and unsubscribers number.
You can use filters and tags to keep your list organized or create segments based on their interests and status in the customer journey.
Plus, you can set all your important campaigns on autopilot. The automated workflow lets you set multiple automated campaigns, which will be delivered to your subscribers after a set timeframe.
Everything in EmailOctopus is easy and quick. You won't find any confusion in any of your tasks.
EmailOctopus Pricing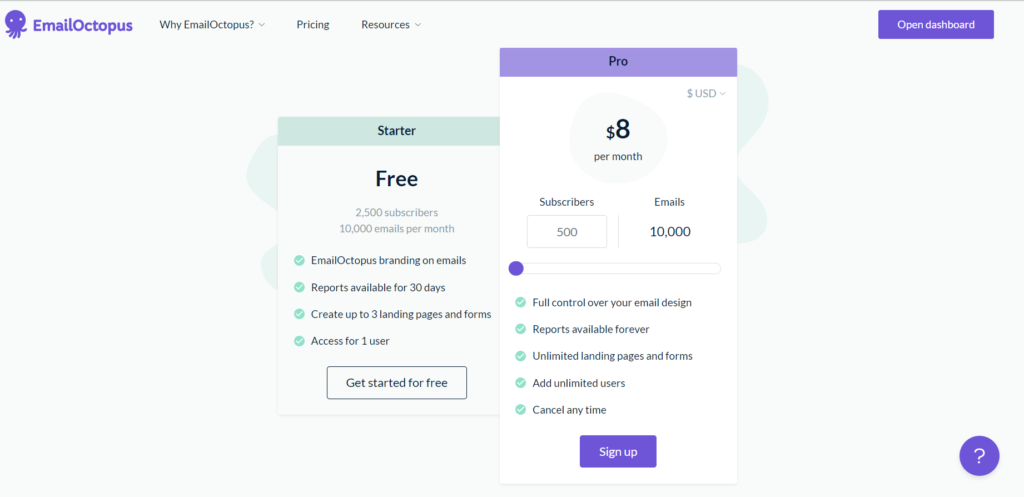 The pricing plan of EmailOctopus is quite simple. There are two plans, including a free plan.
Starter (FREE)
Pro (starting from $8 per month)
Starter (FREE)
EmailOctopus has a free plan to engage with 2,500 subscribers and send 10,000 emails monthly.
The Starter plan is free of cost and comes with the following features.
EmailOctopus branding on emails
Reports available for 30 days
Create up to 3 landing pages and forms
Access for one user
Try EmailOctopus risk-free.
Pro (starting from $8 per month)
The Pro plan of EmailOctopus gives you access to all features. Pricing of the Pro plan depends on the total number of subscribers. The number of emails you can send monthly will also depend on the number of subscribers.
The number of subscribers starts from 500 for $8 per month and can be as many as 500,000 subscribers for $1010 per month. For 500,000+ subscribers, you'd need to contact customer service for a quote.
The features of the Pro plan include
Full control over your email design
Reports available forever
Unlimited landing pages and forms
Add unlimited users
Cancel any time
Top-Features of EmailOctopus
Create a List
A better understanding of why people are subscribing to your list is important for high customer engagement.
This is why it is helpful to customize your list into different segments. It ensures a high level of personalization and connection with your audience.
In EmailOctopus, you can create different lists. For example, if you are running multiple niche-based businesses, you can create separate lists for different topics catering to different audiences.
Segments & Tags
Within a list, you can organize contacts with different tags and segments.
For example, you have a content marketing newsletter. Among many of its aspects, two are" copywriting and SEO.
Let's say some of your audience is highly interested in copywriting-related topics, and stats show that they are more likely to engage and make a transaction in SEO-related content.
If you go the extra mile and keep a record of what your audience is most interested in, you will form a deep connection.
Segments and tags are designed to help you with this.
With segments, you can categorize lists with sub-niches your audience is most interested in. You can further classify those sub-niches with tags to make more specific sets.
Double Opt-ins
Double opt-ins help you ensure that all of your subscribers want to keep receiving emails from you.
When subscribers reassure their preferences, they have a highly engaging list. Reassuring a subscription makes subscribers more likely to open, click, and stay responsive.
Contacts Import & Export
EmailOctopus lets you easily import and export your email list.
So, if you are shifting from any other email service provider, you can import your list from a CSV file. You can also export your list of subscribers or unsubscribers in a CSV file.
Landing Pages & Forms
EmailOctopus have a stack of solid templates for landing pages and forms. You can have only three landing pages/forms in the free plan.
Landing page
There are more than 30 pre-design landing page templates. These templates come with complete customization so you can re-design them with your brand's logo and color.
Here is the list of features included in the landing page option of EmailOctopus,
A block editor for customization with headers, social handles, text, image, and divider option
Options to change the heading color, text color, the width of the page, background image, and font size
Custom page URL, SEO, and analytics options to help in better rankings
Form
There are four different styles of forms in EmailOctopus.
Hello bar
Slide-in
Inline
Pop up
Within each style, there are different pre-made templates. With the preview option, you can select and edit any of the templates and see how it looks in real time.
Campaigns
EmailOctopus lets you set campaigns with advanced settings. These settings help you track open tracking, click tracking, Google Analytics link tracking, and personalized 'to' fields.
These are the emails you set on autopilot. You can personalize each campaign for a specific audience from a specific list.
EmailOctopus lets you select the list and segment to which you want to send the emails. The subject line of emails supports the merge text feature with information such as estimated time to read.
To write email content, you will be presented with templates to choose from.
Once done, you need to set the delivery time and other settings, and your campaign is ready to go.
Automation
The Automation feature of EmailOctopus helps you save time by automating your marketing campaigns.
Depending on the expected actions and triggers, you can define a set of actions to run on autopilot. There are multiple triggers available to help you start with the automation settings. For example,

Contact added to the list: this starts automation when a contact is added to the list
Contact field updated: if any of your email subscribers update their contact details
Contact tag added: when you add a tag for a contact
Manually via another automation: strat automation is manually triggered by an action of another automation
Manually via the API: set an API trigger to start automation manually
But the automation feature of EmailOctopus is not available on the free plan. You need to subscribe to a paid plan to use it.
Email Octopus does not have transactional emails
Templates
EmailOctopus has 30+ email templates to help you get started. These are professionally designed templates with eye-catching designs and balanced color combinations.
You can easily send or manage an email campaign. Based on your requirements, you can amend designs and make adjustments.
Or else you can create your template using a drag-and-drop editor. If you already have a template that you want to use, you can import it into your EmailOctopus account.
Reports
EmailOctopus gives you access to extensive data on marketing campaigns in your report. It includes information and metrics about the actions performed by your subscribers, including
Opened
Clicks on links shared in the email
Number of unsubscribes
Bounce rate
Complained
Did not open
Did not click
These details will be presented in graphs to help you interpret and share this data with insights. You can find these in the reports section, where it might take an hour to generate your report.
Integrations & Developer API
Besides all of the result-driven features, EmailOctopus enables you to integrate all of your favorite apps within a dashboard.
You can integrate any marketing tool, including
OptinMonster
Happyforms
Polite Pop
Noptin
Carrd
Make
Socialscribe
ClickFunnels
Integrately
Zapier
And many more.
Not just that, if you want to create something new out of your EmailOctopus account, you can create API keys. With EmailOctopus Developer API, you can permit an application or website to interact with your account.
What is EmailOctopus Connect?
EmailOctopus Connect is the original product launched by the company back in 2015. This is an email marketing service designed to accommodate the needs of techy-email marketers using Amazon Simple Email Service (SES) because of its cheap rates.
Amazon SES is a service designed for bulk email marketing and transactional emails. But Amazon SES has only a few or limited features to accommodate the updated needs.
With EmailOctopus Connect, you can connect your Amazon SES account and send emails at the same low cost. But you can use the advanced stack of features offered by EmailOctopus.
Amazon SES doesn't charge you anything for the first 62,000 emails a month. For the additional 1,000 emails you send, you will have to pay a fee of $0.10, which is too low.
So, if you are using EmailOctopus Connect, you will pay for the number of subscribers. There's no limit on the number of emails you send each month.
The free starter plan covers your 2,500 subscribers. This means you can send 62,000 emails to your 2,500 subscribers each month without paying any fee (but if you exceed 62,000 emails, you will be charged $0.10 for 1,000 emails per month).
The paid plan starts from $20 per month for up to 5000 subscribers. If you stay within the limit of Amazon SES, which is 62,000 emails a month, you won't be charged anything. But you will have to pay an extra fee if exceeding the limit of the number of emails.
Check EmailOctopus Connect pricing or compare with other providers.
EmailOctopus Alternatives
Beehiiv vs EmailOctopus
Beehiiv and EmailOctopus both are known as creators' friendly newsletter platforms. Both are the one-stop solution with access to all features you need.
Comparing the ease of use, both tools are good and lack nothing. But I personally like the interface of Beehiiv.
Beehiiv lets you offer a newsletter referral program to grow your audience. EmailOctopus doesn't have an in-house solution for it. Instead, it offers integrations.
Beehiiv also lets you monetize your newsletter and make money from it. But in EmailOctopus, there's no option like that.
Another factor is pricing. Beehiiv's free plan lets you engage with 2,500 subscribers with an unlimited newsletter. EmailOctopus also lets you cater to 2,500 subscribers but comes with a limited number of emails, 10,000 emails per month.
So, if you are confused about these two tools, my vote will be for Beehiiv — a much better option with better features and interface.
Read my Beehiiv Review for more details.
GetResponse vs EmailOctopus
GetResponse is an all-in-one email marketing service provider. It has a list of features to help you grow in email marketing.
When comparing GetResponse and EmailOctopus, GetResponse is taking the lead with the website builder, chat options, eCommerce solution, Webinar hosting, and sales funnels.
EmailOctopus has a compact list of features to help you with email marketing. There are no in-house features for webinars, customer chat, websites, and others.
However, the developer API access and integrations let you do everything. You'd need the account of other tools and connect them with EmailOctopus. But for many of us, it is daunting and expensive too.
The free plan of GetResponse caters to 500 contacts with a limit of 2,500 newsletters per month. On the other hand, EmailOctopus has a limit of 2,500 subscribers with 10,000 newsletters.
I'd say if you are getting started to grow gradually while keeping things simple, EmailOctopus would be a better option because of its easy features.
GetResponse is suitable for marketers with dynamic needs.
EmailOctopus Review
Creating a strong bond with your connection is easier with email marketing. But your reputation depends on the service you use.
EmailOctopus is a great newsletter service platform with a good email deliverability score. It is taking the additional step of checking email lists to ensure quality service.
It is a cost-effective tool that lets you serve many subscribers in the free plan.
If you are getting started, EmailOctopus is a good option. Try EmailOctopus for Free.