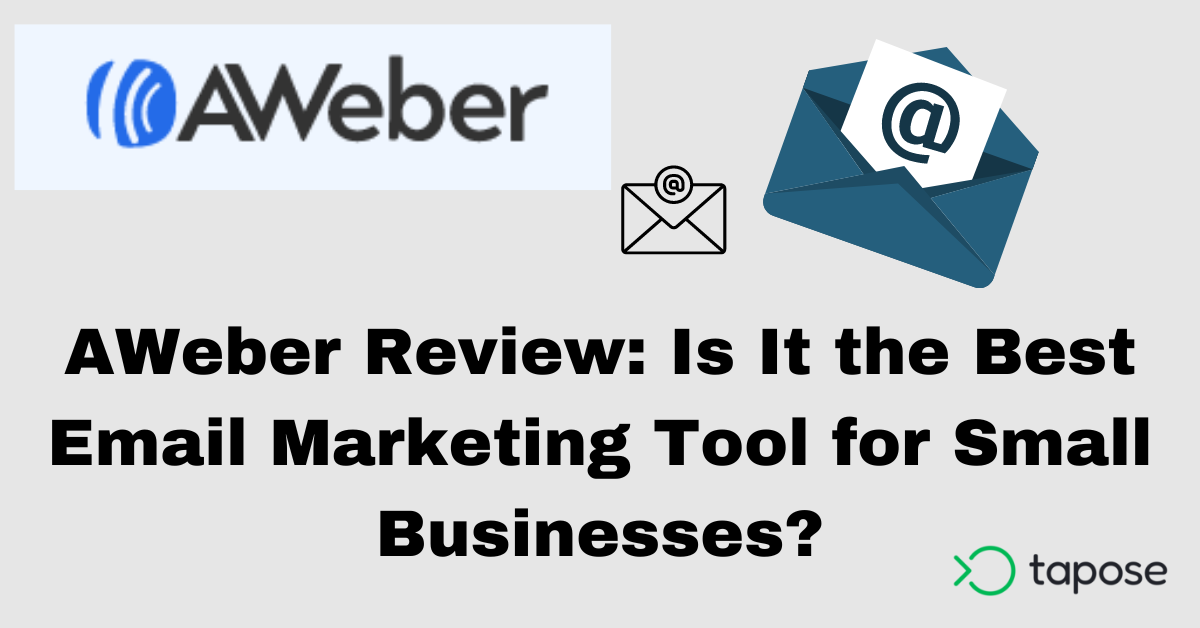 AWeber, founded in 1998 by Tom Kulzer, is among today's pioneer email marketing tools. The tool was initially designed to help small businesses grow by helping them create email marketing campaigns, build a subscriber list, engage with their customers, and track results. AWeber has since grown and boasts over 100,000 users from all over the world. It offers an array of excellent features for advanced campaigns.
Who Should Consider Using AWeber
AWeber is a tool for entrepreneurs, small businesses, and large enterprises. This tool is perfect for
Inexperienced marketers without prior experience using an email marketing service due to its ease of use. AWeber offers a huge template library to help you get started easily.
Small businesses and business start-ups with a low email marketing budget set as it has affordable plans with all the basic features needed to create great campaigns.
E-commerce stores as it offers exceptional digital marketing solutions plus outstanding customer support, making it easier for your store to make a sale.
AWeber Review: Key Features
Email Campaign Creation
"Create pro-like email campaigns hassle-free."
AWeber makes it easy to create outstanding campaigns with autoresponders, newsletters, and other emails that perfectly reflect your brand. It gives you various options for designing your marketing emails. This allows you to choose the tool that you are most comfortable with.
To begin with, the tool offers more than 700 fully customizable templates sorted into different categories to help you easily design pro-quality emails. Thus, you don't need to start from scratch, saving time.
Better still, this tool comes with an artificial intelligence-powered email builder called the Smart Designer. This allows you to create your custom templates from an existing web page. To use the Smart Designer, all you need to do is paste the URL of a web page then the tool will create a range of templates in no time. Once made, you can select a template and customize it to fit your brand.
AWeber gives you three editing options. You can utilize the drag-and-drop editor, a plain text editor, or an HTML editor. The plain text editor allows you to create simple text-only emails. The HTML editor lets you edit the HTML code.
Additionally, AWeber has over 6,000 free image stock libraries for your content, layout, and color schemes. This allows you to enhance your emails with free images and royalty-free photography.
What's more, AWeber integrates with Canva, a free-to-use design software allowing you to create visual assets for your emails within AWeber. You can upload and change your images with various icons, illustrations, filters, and effects.
How do I create a campaign in AWeber?
To create a campaign in AWeber, follow these steps:
Go to the ''Messages'' tab and click ''Drafts''
On the ''Drafts'' page, click ''Create a Message'' and select the editor you want to use to create your message.
Next, click ''Automations'' and select ''Campaigns''
Click on the '' Create Campaign'' tab
Click ''Select'' and go to ''Blank Campaign'' to create a new campaign
Go to the ''On Subscribe'' option to begin your campaign
Tap ''Tag Applied''to begin your campaign based on when a tag is applied.
Hosting your list / importing data into AWeber
AWeber allows you to import different file types, including CSV, TSV, XLS, XLSX, and TXT. You also get the option to add individual subscribers manually or copy and paste rows of subscribers to AWeber.
You'll be required to provide information about the methods to get the data you are importing to prevent spam. Additionally, you may need to wait while AWeber's anti-spam compliance team reviews your list, particularly if it's large.
AWeber Templates
With over 600 templates, AWeber is among the solutions offering the largest email and newsletter templates. Finding the right template for your business is thus easy with this platform with a little bit of tweaking. Some templates are unavailable in the free plan; thus, you may need to upgrade to the paid plan to access the full suite.
While there is a wide range to choose from, AWeber's templates come with some drawbacks, as a number of them are outdated in appearance.
AWeber also allows you to use its Smart Designer tool to create a template that suits your brand if you don't want to utilize its pre-made templates.
Responsive email designs
In this era of smartphones and templates, having a solution available for all devices is crucial. This is one area where AWeber shines. AWeber's email templates are responsive, meaning they adapt themselves to the screen size of the device used to view them.
You can quickly and easily get a preview of your email's mobile version within AWeber. All you need to do is toggle the ''mobile preview'' switch and click the preview button to see how your e-newsletter will appear on a smartphone.
Using web fonts in AWeber templates
Many email marketing platforms limit users to somewhat boring, safe fonts. AWeber allows you to add life to your emails by using web fonts that are more attractive than regular fonts.
You can choose from the 11 web fonts this solution offers, including Open Sans, Arvo, Lato, Roboto, and Noticia Texts.
Web fonts also help you achieve a greater brand coherence between your website and e-newsletter.
RSS to email templates
AWeber can use the RSS feed from your website to create e-newsletters that are distributed in accordance with a predetermined schedule. This is made possible through the Blog Broadcasts feature that the solution comes with. This helps you save a ton of time. It allows you to run your newsletters directly from your website.
Blog broadcasts are particularly useful for bloggers who want their mailing list subscribers to get e-newsletters with links to their most recent content automatically.
Autoresponders
AWeber is among the pioneers in autoresponders, having discovered them in 1998. Autoresponders are a set of follow-up emails sent out automatically in response to user action or the passage of time. Autoresponders are crucial for email marketing solutions as they help save time and money.
The solution offers several autoresponder campaign templates, including welcome series for new subscribers, a blogger series for sharing blog posts regularly, lead magnate series for free downloads, and a Youtube newsletter for sharing videos. These templates make it easy for you to get started with autoresponders.
Landing page builder
AWeber allows building simple landing pages that can be used in combination with marketing campaigns, thus saving you money on expensive third-party solutions. Landing pages are designed to help you capture data more effectively than traditional forms on regular websites.
What's more, the solution also allows you to add Google Analytics to your landing pages to help assess the performance of your campaigns.
Integrations
"AWeber gives you unlimited options."
AWeber comes with an impressive integration capability with over 750 third-party apps. This allows you to link apps that you already use for marketing. With these apps, you can add and manage contacts from your CRM, connect eCommerce platforms to AWeber, and put forms on your WordPress site without coding.
You can connect AWeber to other cloud-based solutions, including website builders such as Shopify or Wix, landing page builders such as Instapage, and CRM tools like Capsule. Others include:
Lead generation apps like Alter, Ajungo, AidaForm, ArtiBot.ai, Beacon, BookFunnel, and Booklaunch, among others.
Productivity tools like Calendly, Excel, Google Calendar, Google Forms, Google Sheets, and Make (formerly Integormat).
Content management tools include Duda, Digital Access Pass, Ghost, Simvoly, Webflow, and Wix.
Survey apps like Surveybot, Surveypal, SurveyMonkey, Zenloop, and Zonka Feedback
While some apps involve dedicated widgets, others need you to add a code snippet to a website. Better still, you can integrate AWeber with Zapier giving you access to over 4000 apps.
The most notable integration for AWeber is the Canva integration. The tool features built-in integration with a popular graphic design app, Canva. This allows you to access this app directly within the AWeber interface, work on a design, and easily insert it into your e-newsletter.
Automation
"Utilize your time for what matters most."
AWeber has an email automation feature called the AWeber Campaigns that allows you to automatically send an email or series of emails to an individual or several people based on a response to a subscriber's action or behavior. With this feature, you can use specific user actions such as opens and click-throughs to determine what message should be sent to whom and when.
AWeber has a drag-and-drop campaign builder to help you easily create automated trigger-based emails. You can create your automated campaign and trigger a campaign when a user signs up, or, based on the criteria, you used to tag customers by simply dragging and dropping the option into the workflow.
To get you started with creating automatic campaigns, AWeber provides many templates. These include a welcome series for when a customer joins your list and a blogger series that distributes various but connected information through emails.
One advantage of AWeber's automation is adding tags to contacts. This makes it easier to maintain and segment your subscriber list. You can connect various email marketing campaigns using tags as well. A campaign may be started by a tag hence adding a tag to one sequence can start a different one.
This tool does not, however, offer advanced automation options. You can't add if/then conditions. To establish conditions, you'll need to create new workflows with different triggers based on the logic you want to set up.
How do I create a mailing list in AWeber?
Creating a mailing list with AWeber is a straightforward process. Log in to your AWeber account dashboard and follow these steps to create an email list.
On the top left corner AWeber dashboard, click on ''Lists'' and then ''Create New List'' at the bottom of the dropdown.
On the next page, add your company name and website URL
Click the next step to add a ''List Name'' and ''List Description.''
Next, enter your ''From Name'' and select a ''From Address''.
Set up the confirmation message sent to subscribers when they are added to your mailing list. Specify the language and the subject line for the confirmation message.
Go to ''Edit message content'' to edit your confirmation message
Click ''Create List'' to complete your list setup.
AMP For Email in AWeber
AMP for email is a new technology that AWeber incorporates, giving it an advantage over other email marketing platforms. This enables recipients to perform basic actions like adding a product to a cart or making an appointment without leaving their email program or going to a website.
Additionally, it enables you to include dynamic content such as customer polls, weather updates, real-time poll results, and more in your emails.
The dynamic aspect of AMP emails makes AWeber's newsletters more compelling. However, you'll need technical skills to implement the AMP for email functionality. You'll need some skills in AMP HTML and coding your templates.
AWeber ''Magic Links''
The magic links tool is another standout feature of AWeber. The tool transforms the link you add to an email in the AWeber editor into a preview of the link's content. This includes images, titles, and descriptions.
The tool eliminates the need for formatting content blocks or uploading photos, helping you save time.
Opt-in processes
Unlike some email marketing solutions, AWeber lets you choose how to handle the opt-in process. It allows you to choose either the single opt-in or double opt-in method to subscribe to your customers.
The single opt-in method allows users to be subscribed immediately after completing a form. Double opt-in, conversely, is when a user has to click on a link in a confirmation email to complete a subscription.
By giving users an option to choose, AWeber has the edge over its competitors as not all solutions offer this option.
Split testing
Otherwise referred to as A/B testing, split testing involves sending different versions of your e-newsletters to a portion of your mailing list, evaluating the performance of each, and then distributing the best version to the rest of the list.
AWeber offers flexibility as it allows you to send up to 3 variations of your e-newsletter with the option to mix and match variants. You can test a subject header against another subject header or a sender name against another.
Most solutions do split testing automatically. You only need to create a few different versions of your email( using varied subject lines or content) and send a sample of your data. The solution automatically sends the most effective version to the rest of your mailing list.
AWeber Review: Optimization
AWeber has a campaign optimization feature to help you improve your marketing with access to rich data that identifies what works and doesn't. This allows you to identify the best send times and content for more clicks and higher sales. You can also increase your website traffic by tracking the emails that get the most clicks.
Better still, the tool allows you to use A/B split testing to learn the concepts, texts, and images that perform best. You can test subject lines, preview text, message content, and even send times to see which email yields the best results.
What's more, the tool has an email tracking and analytics feature that allows you to track everything from open rates to sales with just a few clicks. With these analytics, you can segment your email list based on open rates, purchases, and others, allowing you to deliver the right content to the right audience. You'll also be able to create and track emails designed to boost your website's traffic.
Segmenting data in AWeber
With AWeber, you can create segments based on user activity and the contents of any data field in your database, including emails opened, websites visited, items purchased, links clicked, and many more.
The only downside is that AWeber does not allow you to simultaneously broadcast emails to numerous parts. This can be a problem if you frequently need to mix and match some portions in mailouts.
Pricing. How much does the full version of AWeber cost?
AWeber offers four pricing plans as follows:
Free plan: This plan comes at no cost, allowing you to test the tool before committing. The plan allows a list of up to 500 subscribers, and you can send up to 3000 emails monthly. You also get landing pages, a drag-and-drop builder, web push notifications, and email templates.
Lite plan: This costs $12.50 per month, is billed annually, and allows you to send unlimited emails to one list with unlimited subscribers. This has more features like advanced message analytics and 24/7 support.
Plus plan: The plan costs $20 monthly, billed annually, and allows you to send unlimited emails to unlimited lists and subscribers. It also has all the features in the lite plan, advanced landing page features, sales tracking, low transaction fees, and removing the AWeber branding option.
Unlimited plan: This calls for custom pricing for over 100,000 subscribers and offers personalized account management plus all other features in the other plans.
AWeber customer support
AWeber offers excellent customer service via various channels. It offers 24/7 email and lives chat support to all its customers. You can also call them on their toll-free number, available even for users outside the US.
It also has help options that are easily accessible in the tool's main menu. Additionally, AWeber has help materials such as knowledge base articles on the company blog. It also has video tutorials to help users better familiarize themselves with all the features.
Better still, there are no hurdles to go through to contact support. All the relevant contact details are easily accessible on the company's contact page.
AWeber Review: What We Love About It.
These are some of the things that are desirable about AWeber:
Numerous templates: AWeber offers a good range of templates for email newsletters, landing pages, and blog broadcasts to get you started easily.
Flexibility: With this solution, users can choose either single or double opt-in for their subscribers.
Excellent integration capabilities: AWeber integrates with an impressive range of third-party tools and apps. This makes it easy to create a smooth workflow.
AMP for email: This email marketing solution facilitates AMP for email, allowing you to include dynamic content.
Great import functionality: AWeber has good import functionality with the option to import many file types and include the email addresses you're importing directly to an autoresponder cycle.
Responsive email templates: Aweber's email templates are responsive, meaning they automatically resize themselves to fit the device they view.
AWeber Review: Drawbacks
While AWeber is a great tool with so much to like, it also has shortcomings. These are some of the tool's drawbacks.
Basic automation: AWeber's automation is very basic and has limited options. It lacks advanced automation features like a visual workflow editor and conditions.
Outdated interface: AWeber's interface is clunky and outdated. Many users report that it does not allow bulk actions. You can only do one thing at a time, making it difficult to create a seamless workflow.
Steep learning curve: Because AWeber's interface is clunky and outdated, users need time to adapt. The tool has a steep learning curve. You may need a help guide to Install AWeber.
Limited reporting and analytics feature: Although AWeber has reporting and analytics features, these are very basic and have very limited options.
Old-fashioned templates and forms: Though it offers access to an impressive range of templates with over 700 options, some need to be updated and not on-trend.
It's costly: AWeber is quite pricey compared to other alternatives with more advanced marketing and automation features. This tool lets you pay for your account's active and inactive email addresses.
Low deliverability score: Ensuring your emails get delivered is crucial in email marketing if you want higher open rates and more clicks. AWeber has not put up a system to help you sort through delivery statistics to spot any issues with delivery. As such, most of its emails end up as spam or lost.
AWeber FAQ
Can I use AWeber for free?
Yes, you can use AWeber for a free monthly plan for up to 500 users. However, you'll not be able to access some features.
Can I use Gmail with AWeber?
Yes, AWeber integrates perfectly with Gmail as they are both email-based platforms. You can connect AWeber and Gmail to sync data between apps and create powerful automated workflows.
How many lists can I have in Aweber?
With AWeber's plus plan, you can create unlimited lists at no extra cost. However, you can only have one list with the free plan.
How many emails can you send with AWeber?
You can send 3,000 emails monthly or 100 days with a free AWeber account. With the Pro plan account, you can send unlimited emails.
Can you have more than one AWeber account?
Yes, you can have multiple accounts with AWeber. However, you must switch between the accounts if you use the same email address while working.
AWeber Review: Final Thoughts
AWeber also integrates with many third-party tools hence a good choice if you are already using other apps in your business. This makes it easier to create a seamless workflow. However, something else may work better if you are looking for advanced segmentation and automation features.